Opening hours and information
At the entrance, the visitor will receive a brochure which will guide them through the excavations and show the location of the principal features. We do not provide guided tours 
The Basilica of San Clemente, with its wonderful blend of history, art and faith, welcomes visitors and pilgrims. We draw your attention to the fact that, in order to enter the archaeological excavations, online booking is required. For the protection of the artistic heritage and to ensure a safe and enjoyable visit for all visitors, there is a limit on the number of daily admissions. Online booking is the only means of securing entry, allowing one to choose the date and time slot of one's choice.
Before booking online, we ask you to carefully read the regulations with the procedures and directions for your visit: these are necessary rules so that your visit can take place under the best and safest of conditions.
MONDAY TO SATURDAY:
from 9.00 to 12.30 (last entrance at 12.00)
from 14.00 to 18.00 (last entrance at 17.30)
SUNDAYS AND HOLIDAYS:
from 12.00 to 18.00 (last entrance 17.30)
For any changes to the times of opening,  please see our page on facebook.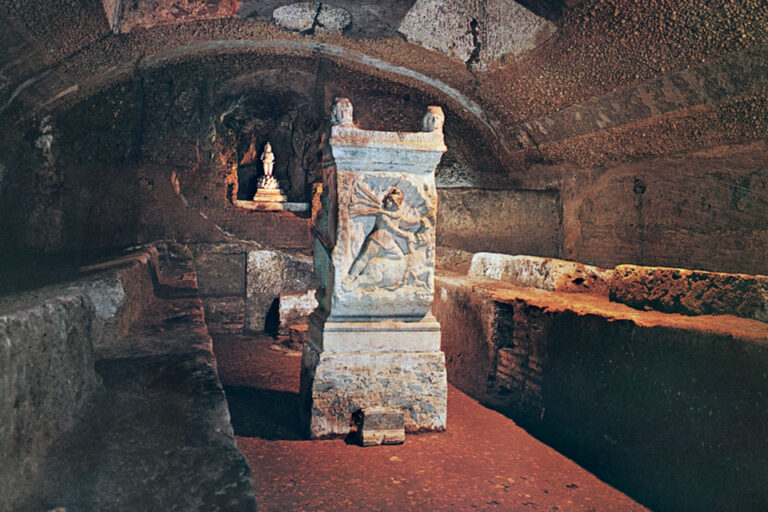 Reduced
School groups (€ 5,00 each)
Students with student card (under 26 years old)
Free
Students under 16 years old accompanied by their parents (valid only when purchased with minimum one adult ticket)
Disabled and carers
GUIDED TOURS: Guided tours of the excavations will be possible for groups made up of a maximum of 25 people (plus guide).
SCHOOL GROUPS: One teacher for 10 students is free and need not be included in the reservation. Other teachers pay reduced price (€ 5,00 each)
LICENSED TOURIST GUIDES: Authorised guides are not required to make a reservation, however they must show their tour guide card on arrival.
The Secretary's Office can be contacted from Monday to Friday from 10.00 to 16.00 (closed on Saturdays, Sundays and public holidays). Contact: segreteria@basilicasanclemente.com
The entrance to the Basilica and the Excavations is on Piazza S. Clemente